Research Americas Earliest Immigrants FREE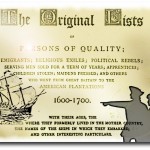 Family Tree fanatics wishing to research the earliest immigrants to the Americas are in for a real treat with this fantastic book published in 1874 and titled The Original Lists.  
 The book will be of great interest to any family history seekers whose family came to the Americas during 1600-1700.
Its contents are comprised of the original lists of:
Persons of quality
Emigrants
Religious exiles
Political rebels
Serving men sold for a term of years
Apprentices
Children stolen
Maidens pressed; and others who went from Great Britain to the American Plantations, 1600-1700
It is exciting to note that within the pages of this fantastic resource is a list of  early immigrant passengers that came over on the Mayflower (1620), The Fortune (1621), The Anne and Little James(1623).
Along with this bounty of genealogical booty, the book lists the ages of individuals, the ships they embarked on and various other interesting details such as the following:
"The bill of mortality of the said rebells that dyed since they were reced on board and were thrown overboard out of the said ship are these uiz. December the Sixteenth Thomas Venner, Seventeenth W* Guppy, Eighteenth John Willis, Nineteenth Edward Venn,  the same day Philip Cox one and Twentieth Robert Vawter, Five and Twentieth Wm Greenway, January the first Peter Bird, Witnessed by the commander, March and officers' of the said ship this Eigth day of January 1685."
 John May
John Penn
John Maddison
Gabriel Whithorn
Malcum Fraser
One very interesting chapter is "Entries relating to America taken from the Indexes to the Patent Rolls, commencing 4 James I 1606 and ending 14 William III 1702." The entries in this section are very intriguing and include entries such as:
"Grant of Incorporation, by the name of the treasurer and Company of Adventurers  and Planters in the city of London and Bristol, For the Colony and Plantation in Newfoundland."
Taken from manuscripts held in the State Department; Her Majesty's Public Record Office, England, this incredible resource is filled from cover to cover with fascinating histories of the earliest pioneers to the Americas.
Before you start flipping through the pages, remember to download your Family Tree Charts and Research Tracking forms available with your 30- Day free trial to Genealogy Beginner.
Read The Original Lists at Internet Archives