Newest FREE Family Tree Resources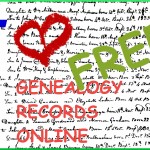 If you have been waiting for new genealogy resources to become available online, your wait may be over. The month of July 2012 saw some great additions to genealogy resources by FamilySearch.
The new additions span the globe from the USA to Asia…some dating from the 1400s.
Keep reading for a complete list of the July's new records:
Record For
Record Type
Date Added

United States

Alabama, Madison County
Chancery and Circuit Court Records, 1847-1950
10 Jul 2012
California, San Mateo
County Records, 1856-1991
17 Jul 2012
Indiana
Marriages, 1811-1959
7 Jul 2012
Maine
State Archive Collections, 1790-1966
10 Jul 2012
Missouri, Jackson
County Voter Registration Records, 1928-1956
17 Jul 2012
Nevada
County Birth and Death Records, 1871-1992
10 Jul 2012
New York, Orange County
Probate records
10 Jul 2012
Oregon
Douglas County Records, 1852-1952
10 Jul 2012
Texas
Deaths, 1977-1986
19 Jul 2012
United States
Census, 1940
6 Jul 2012
United States
Social Security Death Index
2 Jul 2012
United States
Civil War Widows and Other Dependents Pension Files
7 Jul 2012
United States
National Homes for Disabled Volunteer Soldiers, 1866-1938
10 Jul 2012
Utah
County Marriages, 1887-1937
6 Jul 2012
Utah
Marriages 1887-1966
16 Jul 2012

Canada

Canada
Census, 1916
3 Jul 2012
Nova Scotia
Vital Records, 1763-1957
3 Jul 2012
Ontario
Marriages, 1869-1927
6 Jul 2012
Quebec
Notarial Records, 1800-1900
17 Jul 2012
Saskatchewan
Probate Estate Files 1887-1931
6 Jul 2012

Great Britain

Scotland
Census, 1881
2 Jul 2012
Scotland
 Census, 1891
2 Jul 2012

Western Europe

Italy, L'Aquila, Camarda, Parrocchia di San Giovanni Battista
Catholic Church Records, 1606-1941
3 Jul 2012
Italy, Palermo, Diocesi di Monreale
Catholic Church Records, 1531-1998
3 Jul 2012
Italy, Trento, Diocesi di Trento, Catholic
Catholic Church Records, 1548-1937
21 Jul 2012
Italy, Vicenza, Casoni, Parocchia di San Rocco,
Catholic Church Records, 1597-1937
3 Jul 2012
Spain, Province of Sevilla
Municipal Records, 1903-1918
10 Jul 2012
Spain, Province of Tarragona
Records of Widows and Orphans of Spanish Officials, 1860-1960
10 Jul 2012

Eastern Europe

Czech Republic
Censuses, 1843-1921
10 Jul 2012
Czech Republic
Land Records, 1450-1889
10 Jul 2012
Poland
Roman Catholic Church Books,
16 Jul 2012
Slovakia
Church and Synagogue Books, 1592-1910
19 Jul 2012

South America

Chile, Santiago
Collection of Genealogies, 1500-1980
11 Jul 2012
Chile, Santiago
Cementerio General, 1821-2011
11 Jul 2012
Peru, Lima
Civil Registration, 1874-1996
11 Jul 2012
Peru, La Libertad
Civil Registration, 1903-1997
2 Jul 2012
Dominican Republic
Civil Registration, 1801-2010
11 Jul 2012
Ecuador
Catholic Church Records, 1565-1996
2 Jul 2012
Guatemala
Civil Registration, 1877-2008
3 Jul 2012
Portugal, Braga
Catholic Church Records 1530-1911
11 Jul 2012
Portugal, Castelo Branco
Catholic Church Records
20 Jul 2012
Portugal, Diocese of Lamego
Catholic Church Records, 1529-1916
11 Jul 2012
Portugal, Diocese of Vila Real
Catholic Church Records, 1575-1975
11 Jul 2012

Asia

Korea
Collection of Genealogies, 1500-2009
10 Jul 2012

South Africa

South Africa
Free State Dutch Reformed Church Records, 1848-1956
19 Jul 2012
South Africa
Orange Free State, Estate Files, 1951-2004
11 Jul 2012
South Africa, Western Cape
Various Records
10 Jul 2012
Before you tackle all of these new family history records and break your genealogy brick wall, remember to download your Research tracking forms and Family Tree Charts. Available with your 30-Day FREE TRIAL MEMBERSHIP to Genealogy Beginner