Making Family Trees – Tackling The 6-Generation Family Tree Chart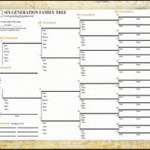 When making family trees it's easy to get lost in the details. All those lines and dates, who's generation one and where do your children go? My hope is that this blog post will get a discussion going around how to address these issues.The Six Generation Family Tree Template you downloaded has three key areas that you need to understand in order to complete your family tree:
Entry Numbers (representing people)
Chart Number (used to sync 7+ generations)
Birth, Married, and Death citations (represents your research)
Some folks are writing to say they're having a hard time with these three areas. If this is the case for you than go ahead and use the comments area below to ask any specific questions. Also note that I've written a short yet detailed guide that you can use to complete your family tree chart.
It has four main sections:
Mastering the Six-Generation Family Tree Chart
Step-by-Step: Generations One Through Three
Step-by-Step: Generations Four Through Six
Seven Generations and Beyond
I'm calling it, "How to Complete a Family Tree Chart" and you'll find it a great resource for getting things done.
It is extremely inexpensive and packed with photos and step-by-step instructions. I discuss every inch of the 6-generation family tree and promise it'll answer every question you have about how to complete the chart.
(If there is a question or comment below that you have a good answer for, please don't hesitate to chime in.)