The Grave Humor of Genealogy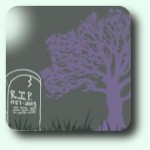 Genealogists have long used cemeteries as a source for finding ancestors in their family trees. Burial grounds are a repository of the history of people, they record lives lived and commemorate deaths.
They are frequently filled with beautiful statuary, touching memorials and every so often …humorous remembrances.
Genealogy Fun
When doing a graveyard search, humor is not likely the first thing most genealogists and family historians have on their minds; the graveyard is a solemn place. However, if you stick with this hobby long enough you may run across some extremely entertaining memorials such as the following.
Written on the gravestone for talk show host Merve Griffin:
"I will not be right back after these messages."
On the memorial of Mel Blank, famous for the voices of the Cartoon series Looney Tunes.
"That's All Folks"
Written on a tombstone in Thurmont MD:
"Here lies an Atheist. All dressed up and no place to go."
On the memorial of a certain Mr. Cook:
"Ma loves Pa- Pa loves Women. Ma caught Pa with 2 in swimming. Here lies Pa."
"I told you I was Sick"
On the grave marker for Robert Clay Allison (1840-1887):
"He never killed a man who did not need killing."
On the Grave of Anna Wallace:
"The children of Israel wanted bread, And the Lord sent them manna,
Old clerk Wallace wanted a wife, And the Devil sent him Anna."
On a stone from Burlington Vt.:
"She lived with her husband fifty years, And died in the confident hope of a better life."
Another great tool for your cemetery searches is a Cemetery Visit tracking form. Get yours free with a Genealogy Beginner 30 Day Free Trial.