Genealogy: Solving History's Mysteries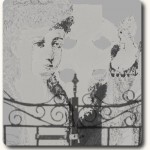 A skeleton excavated in 1992 at London's historic Crossbones Cemetery has puzzled archeologists from the Museum of London for several years.
A team of forensic scientists and historical researchers from The Center for Anatomy and Human identification at Dundee University takes on the enigmatic case. Using scientific methods and following a trail of genealogical records, the team endeavors to discover the identity of the skeleton nick named "Crossbones Girl" and the circumstances that led to her death.
Crossbones Cemetery
Crossbones Cemetery is located in London's oldest borough and dates to medieval times. Although it is classified as a pauper's burial ground it was more than that. Well documented in historical records, Crossbones Cemetery was well known to be a "single women's" final resting place — in modern terms, a graveyard for prostitutes.
In a 1598 survey of London, historian John Stow writes, "I have heard of ancient men, of good credit, report that these single women were forbidden the rites of the church, so long as they continued that sinful life, and were excluded from Christian burial, if they were not reconciled before their death. And therefore there was a plot of ground called the Single Woman's churchyard, appointed for them far from the parish church."
By the 19th century the graveyard's reputation was well known, as can be seen in the 1833 writings of antiquarian William Taylor: "'There is an unconsecrated burial ground known as the Cross Bones at the corner of Redcross Street, formerly called the Single Woman's burial ground, which is said to have been used for this purpose."
Today regular vigils are held in memory of the souls buried in this notorious grave site.
The Case
Excavated from the upper layers of this infamous cemetery is the heavily scarred skeleton of a young woman. After an examination of her remains forensic scientists decode the message in the bones.
Taking measurements, it is concluded that she was about 4'7″ tall.
Stable isotope analysis reveals a poor diet.
3-D X-rays of the skeleton indicate that she was in her teens (possibly between 16 – 19) at time of death.
The condition of the skeleton shows undeniable signs of syphilis.
Further analysis discloses that she underwent Mercury treatment, commonly used at the time to relieve the symptoms of syphilis (which affected roughly 15% of the British population).
Scientists theorized that it is unlikely she died of syphilis, as the skeleton shows signs of healing.
Theory: They are looking at a very unfortunate young woman who had to turn to prostitution for her survival.
Can Genealogical Documents Tell the Story?
Scientific research can only uncover so much; now it is up to the historical researchers to flesh out the rest of her story using genealogical methods and documents. A researcher from the London Metropolitan Archives is brought in to see if a paper trail can be established.
First, a timeline needs to be determined.
The remains of "crossbones girl'" were recovered from the upper layers of the cemetery, which was closed in October of 1853. By cross-referencing hospital, workhouse, and burial registers, a period between 1851 and 1853 is settled through process of elimination. The age of the subject made this process easier, as deaths of the very old and very young are common but deaths in the 16-19 age group are far less so.
Among the records consulted are:
St. Thomas's Hospital – dead book (a charity hospital in Suffolk)
The City of London burial index
The Hakney Archives
While looking through the St. Thomas's Hospital dead book, a name jumps out. It is the name of a woman who was placed in what was then called the "foul" ward — a ward for women suffering from syphilis.
The name of the patient is Elizabeth Mitchell, a 19-year-old woman who came in to be treated for "discharge and sores". In the margins beside her name is an entry that states that the patient died from pneumonia on 15 Aug 1851. (This coincides with the scientists' suggestion that she did not die from the disease.) Also strengthening this is entry #2090 from the St. Xavier parish records:
Eizabeth Mitchell, aged 19
Buried 22 Aug 1851 by Mr. Day, Minister.
Her residence was listed as St. Thomas Hospital.
While this is not 100% conclusive proof, the burial record puts Elizabeth Mitchell in the same part of the graveyard in which the skeleton was found.
In the end, scientists and historical researchers alike were satisfied that "Crossbones Girl" could very plausibly be, and likely is, Elizabeth Mitchell.
Genealogy is already an exciting and challenging pastime; however, when you add elements of archaeology and forensic science to genealogical detective work it is nothing short of mesmerizing. Add to this the aspect of DNA and you begin to see not only one new direction genealogy has taken but the future possibilities as well.