Genealogy Pitfalls: Genealogy Beginners Beware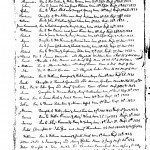 Recently while researching a family line, I discovered what I hoped might be a breakthrough on a frustrating brick wall. What I actually found was a good reason for beginning genealogists to use caution before including individuals in their family tree without first confirming the source.  Truth to tell, this is a sad tale of how genealogy misinformation and mistakes are spread.
This story starts with a search for the parents of John McCallum b. about 1785.
I know that John was born on approximately this date from one source.
Monumental Inscriptions: Carnwath, County of Lanark for John McCallum
Death, noted: By Peter and J. McCallum to Fa. John 16/9/ 1839} 54; John McC. s. of Jas. 27/5/1865} 20; Janet Gibson w. of said John McC. 25/11/1876} 86; Said Jas McC. 27/6/1898} 81; Marion Law 9/4/1904} 83; their gdr nurse janet McC. 30/8/1902} 22.
I know the above named is my John McCallum from three separate sources:
1. From Statutrory Index 1916 – 1876 for the death of Janet McCallum:
Death November 25th, 1876
Fauldhouse, County of Linlithgow
At Rosebank, Fauldhouse, Parish of Whitburn
JANET MCCALLUM, 86, Widow of John McCallum, labourer
daughter of:-
F. Alexander Gibson………..deceased
M. Christine Gibson, m.s. Weir…deceased
Cause: Chronic Brights disease, 10 months
as cert. by John Crawford L.R.C.S.E.
Informant Isaac McCallum, Son, Present.
2. Statutory Index pre 1855 births 1824 & 1823 for the birth of William to John McCallum and Janet Gibson and consulted OPR 632/3 Carnwath, County of Lanark.
Birth: "William son to John McCallum and Janet Gibson born Oct. 4, Baptized 26th 1823."
3. Statutory Index 1913-1916 for the death of William McCallum, In West Calder
Death: 1916, January 24th
West Calder, County of Midlothian
at 5 Davy street, Addiwell, West Calder
William McCallum, 92, Traffic Manager, Widower of Martha Walker.
Son of :-
F. John McCallum, Laborer…deceased
M. Janet McCallum, m.s. Gibson…deceased
Cause, Senile Decay, 1 month. As cert. by John Young, L.R.C.P.&S.E.
Informant James McCallum, Son.
Anatomy of an Ancestor Hunt
What I want to know is who Johns parents were, unfortunately Carnwath marriages are blank from 1735-1826.  Additionally I have been unable to find a death record for John; two documents that could contain the information I need.
While searching for source documents or any clues as to the parentage of my John I ran across several family trees on the internet that named both my John, his wife and their children.  A total of three family trees on Ancestry.com and one website, all naming John's parents as John McCallum and Catherine Gray from Kilmicheal, Glassary, Argyll, Scotland
A Family Tree Cautionary Tale
Following this trail, I checked to see what sources they had cited…I found none listed. Still hopeful, I wrote to every lead and asked if they could help me locate the source they had used. Two Ancestry.com users answered that they had found the information from the other Ancestry.com tree and had not checked on the source. The other did not respond.
The website owner was lovely and sent me a copy of the birth registration from the OPR, here is a transcript.
09/01/1785 McCallum, John [OPR Births 511/000010 0061 Glassary]
"John McCallum Ashdaherlic & Catherine McCallum had a child named John"
Sadly, this is far from conclusive as there are eight other possible parents for my John McCallum b. 1785. (Note: this document does not give the mothers maiden name).
All couples listed below also had a son born 1785 named John McCallum.
Donald Mccallum,​ Jean Graham ABERFOYLE,​PERTH,​SCOTLAND
John Mccallum,​ Agnas Mcjock BUCHANAN,​ STIRLING,​ SCOTLAND
Peter Mccallum,​ Janet Mclaren KENMORE,​PERTH,​SCOTLAND
James Mccallum,​ Mary Forsyth BARONY,​LANARK,​SCOTLAND
John Mccallum,​ Christian Jackson GLASGOW,​LANARK,​SCOTLAND
Daniel Mcallum,​ Ann Mcallum STIRLING,​ STIRLING,​ SCOTLAND
Hugh Mcallum,​ Katharine Mcfarlane BONHILL,​DUNBARTON,​SCOTLAND
Daniel Mcallum,​ Ann Mcallum STIRLING,​ STIRLING,​ SCOTLAND
The Moral of the Story
As you can see from this story, it is very important to find documented sources before including someone in your family tree and publishing the information. It is just as important to remember that genealogy research sites are tools. Ancestry.com states "don't take un-sourced documents at face value".  Finding your ancestor listed on someone else's tree is not proof. Without a documentable source or two to back up your research you are simply guessing.
To learn more about avoiding pitfalls, citing sources and the standards of good genealogical research check out, Lesson 1: Beginning Genealogy – The Big Five.
Image Credit: Ramona Hartley