Genealogy: Getting to Know Your Ancestors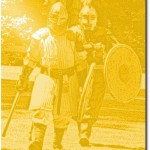 The Merriam Webster Dictionary gives a definition of genealogy as:
an account of the descent of a person, family, or group from an ancestor or from older forms
the study of family pedigrees
Strictly speaking, this is true; it is certainly a good definition of the process and an accurate descriptor of the intent with which genealogy is first approached. However, to those of us who have spent any length of time on this addictive hobby, the study of our ancestors begins to take on new meaning.
It is not long after family tree research begins that the dry definitions become inadequate. As we work our way through record after record, learning piecemeal the details of our ancestors lives we begin to feel we are getting to know them as individuals.
For some, the genealogical aspects of family history research are not enough.  We want to get to know our forefathers on a deeper level. Become more familiar with their day-to-day lives.
If you count yourself among those wishing for a deeper understanding of your generations past, there are a number of activities you can participate in; activities that will allow you to experience your family history in a very real way.
Recreationists
Pick almost any period in history and you will find a group of people actively recreating the era. Living history groups include the activities, dress and tools of the eras they portray to give participants the sense of stepping back through time. Recreationists are not re-enactors; they are not scripted nor are they involved in recreating specific events. Member's interests can include clothing styles, pastimes, cookery and artisanship, everything that would help create a feeling of every day life in bygone days. It is not at all surprising that among their ranks you find many genealogists and family historians.
Living History Groups
From late 20th century groups like "The 20th Century Revisited" A UK based group recreating scenes and events from various parts of the later 20th Century including WW2 resistance, and 1970 British Army of the Rhine (BAOR) or "Paper Dolls" An international group made up of female members who portray military and civilian life during World War Two. From hometown sweethearts, Women's Land Army, French Resistance, American Red Cross, Women's Army Corps. These groups offer an opportunity to learn what it was like for ancestors who lived during the great wars; both on and off the battlefield.
If you are more interested in the events of the 19th century The Living History Society of Minnesota members can attend workshops and participate in activities designed to increase their knowledge of mid 19th century life. For those whose Gr,Gr,Gr, Grandfathers heeded the familiar call of "Go West young Man" the Mojave Muleskinners have several branches across the US, Canada  and the UK where you can immerse yourself and learn about life in the old west.
If you can trace your family tree to medieval times, a living history group from the Middle Ages may be more suiting. The Society for Creative Anachronism (SCA) is an international organization with over 30,000 members residing in countries around the world. One of the best things about this group is that you will find a mix of cultures from Viking to Italian to Middle Eastern. Members attend events such as tournaments, royal courts, feasts, dancing, various classes, workshops and more. The SCA is a group that lets you explore all of the European lines in your family tree.
If you want to know more about how living history groups can help enrich your genealogy and family history or how to find a group near you, just post a question to the Genealogy in General board on the Genealogy Beginner forums.