How To Make A Family Tree
The Step-By-Step
Genealogy Guide

With Family Tree Charts,
Research Forms, And Instructions

Will Reveal The Secret Behind


How To Make A Family Tree

Learn Exactly How To Research Your Family Tree!
Before you sign-up with Ancestry.com or MyHeritage it is important you know to research your family tree.
When you understand exactly how to research your ancestors, you'll almost certainly save money, time, as well as a lot of frustration and heartache.
You need a guide that will tell you exactly why you and others like you have tried but were forced to give up on Ancestry.com, MyHeritage, and other "Pay to Play" genealogy websites… a guide that will finally manage to show you how to find your ancestors and complete a wonderful family tree.
---
Dear Friend,
My name is Chris Clegg and like so many people who have started to reach a certain level of maturity and age, I spent months desperately trying to figure out how to research my ancestors and learn how to make a family tree.
I had never done any serious genealogy research online or offline but wanted to have something organized that I could gift to my children.
I've Read A Lot About Ancestry.com
It seemed to be the most popular place to go to learn how to make a family tree. They can be expensive; too expensive if you don't know exactly what you're doing.  I've read online reviews that report after someone signed up and started to type in their family name, people came up in the search results that they knew were not their ancestors. If you don't know how to tell your ancestors from another family's than you will quickly waste your money.
I Then Turned To MyHeritage.com
They also cost money but not as expensive.  However, I have the same concerns for a beginner genealogist.  You don't want to find yourself entering names you know and the online service coming back asking for information you either don't have or suggest people you really don't think are your ancestors.
I realized after reviewing sites like these that the typical beginner would have to learn how to research my family tree on their own.
So at Genealogy Beginner… We Set Out To Make This As Easy As Possible!
We bought books, read guides, spent countless hours online and in the library to learn how to make and properly research a family tree.
We wrote it all down so we could share it with others. Let me tell you about it.
---
"The Step-By-Step Genealogy Guide"

It covers everything you need to know about getting started with genealogy research…

Just a few minutes from now you could be reading about your grandparents, great-grandparents, even great-great-grandparents regardless of where they lived.

 
---
If you truly want to master the art of how to make a family tree,
in no time at all… then this is going to be the most
exciting message you ever read.
Could this happen to you? Yes, it could!
Imagine being able to start your family tree research today, before you go to bed tonight. You can definitely do that.
Imagine knowing of exactly what you needed to do. (Some genealogists can easily find several ancestor in one night. Not bad for just one night, huh?)
We've written an easy to understand, clear, step-by-step guide that I highly suggest you use to to get started with your genealogy research projects. I absolutely guarantee that you'll complete at family tree and have a thorough understanding of how genealogy research works.
Six chapters of clear instructions on exactly how to search for your ancestors (online and off):
Chapter 1: Getting Started
(Learn Exactly How to Get Things Started)
Short Introduction
Paperwork in Order
Family Interviews
Initial Databases
Government Sources
Leaning on Others
References/ Action items
Chapter 2: How to Complete a Family Tree Chart
(Learn The Mechanics and What All The Sections Mean)
Mastering the Six-Generation Family Tree Chart
Step-by-Step: Generations One Through Three
Step-by-Step: Generations Four Through Six
Seven Generations and Beyond
Chapter 3: Searching Cemeteries
(Where to Find Free Cemetery Search Websites)
How to Start
Cemeteries Online
Visiting a Cemetery
Cleaning a Headstone
References/ Action items
Chapter 4: Searching Public Records
(The Best Free Accurate Public Record Sources)
Legal Names & Birth Dates
Office of Vital Records
Dept. of Veteran's Affairs
The U.S. Census
Local Courthouses
Other Public Record Sources
References/ Action items
Chapter 5: Genealogy Reunion
(How To Best Approach Your Living Relatives)
Reunion Committee
Committee Agenda
At the Reunion
Reunion Warning
References/ Action items
Chapter 6: The LDS Utah Center
(EVERYTHING You Need to Know The LDS)
The Website
Preparing for Your Visit
LDS Orientation
Doing Research
References/ Action items
Here's what Charles from Atlanta, GA had to say after getting the guide:
"I was hoping to learn exactly where to start. I was going to so many different resources and getting confused as to what was what. I needed to get more organized and you helped me do that." (Charles – Atlanta, GA)
100% RISK-FREE
MONEY BACK
GUARANTEE
It seems almost silly to even say it; the price is such a small amount of money but hey, you're our customer.  And if you're not happy, it looks bad on us.
So if you're not happy with what you discover from "Step-by-Step Genealogy Guide" we don't expect… or want… to keep your money.
Just simply whip off an email to me personally; cclegg(at)genealogybeginner.com and I'll see that we happily refund your money in full (in fact, I'd be embarrassed to keep it.)
But… the book is yours to keep no matter what,
right now as a "thank you" gift from us!
Okay? So you really can't lose! The book's yours no matter what. That's about as fair as it gets, don't you agree?
---
Some people have asked how we wrote the guide and how do we know it'll work for you. Simple, every section in the book is there because "you asked for it."
Well, not "you" really. But from real live questions. Questions from people who have struggled with starting to learn how to make a family tree and want to find only the best, simple, free online resources.
This is what we did: A simple web page was set up, and people like you visited it and left us their most pressing questions on genealogy research.
Then we answered them!
Which means no fluff. Just the real answers you want to know. You'll discover all types of exciting tips. From how to build a family tree from scratch .. to what supplies you'll need. From how to find good, free government resources (easily) … to how to find ancestors from overseas!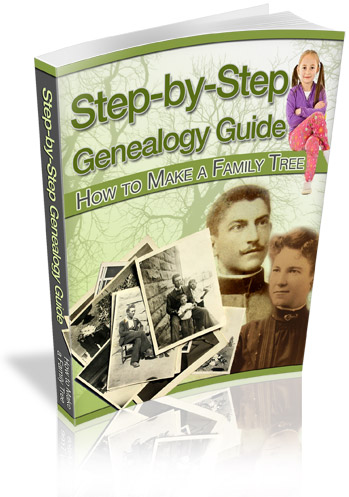 Here's a sneak peak
at what you'll discover in
"The Step-By-Step Genealogy Guide"
How to quickly and easily get started on your family tree with free family tree charts that you can easily download (it truly is earlier than you think!)
Why even a beginner can get started in their own family tree design (that's right, you don't need to be a "genealogy guru" to have great family tree)
A simply amazing options in how you layout your tree – discover exactly what a family tree looks like
How to know if you've found the right person (and how to make headway from it even if you're wrong!)
---
What to know the "right price" to pay for professional genealogist assistance? Don't hire a professional genealogist until you know this important tip – getting it wrong could render you "dead" from the start
The Single biggest complaint beginning family tree researchers have about search websites (once you know this, you'll be able to create an ultra successful search plan while others who don't know this remain oblivious)
How to find up-to-date information on your ancestors that is easy that you'll have a list of searches to make (one remarkable find will lead to dozens of others… once you get started you won't be able to stop)
How to find trusted websites you can count on…ones that have solid, accurate data you can count on.
No idea where to start? Here's a secret almost nobody (except the few successful genealogists) know about build a huge family tree at lightening-quick speed – even if you've never created a family tree in your life
---
Are there any free services for people who are pulling their hair out over name spelling problems? This is what you must know to sail past any name related hassles with ease
This next one was a huge hit with past readers!
Where to find rare surnames databases that virtually no-one else uses (in fact, their right under you nose and are surprisingly easy to use)
---
How to know that you found the right person – so you can lock on to your ancestors with laser-guided accuracy
How to make a family tree different from the rest and have 3 times more samples and templates than the typical beginning genealogists
What supplies you need to get started (and which you don't!)
How to conduct online research with your a clear plan in mind so that you don't waste time, but still get everything you need from search session in order to create a "top gun" family tree.
---
How to get started (can you imagine getting started tonight? It's true – you just need to know how)
The BIGGEST mistake most first time genealogy searchers make when it comes to searching names (truth is, you're spending way to much time on the wrong things!)
The ideal ways to organize your search in order to make the most from many limited pockets of time (this makes a huge difference to the success of your project)
How to create a network of people that pulls your ancestors out of the woodwork (that's right, people find your ancestors and bring them to you, not the other way around)
How to manage your time so that your resolve to build a great family tree doesn't take over your life
---
How to still enjoy your family and friends, yet make significant family tree search progress because you've mastered genealogy time management.
"To die for" family search resources you can rely on for information, help, and savings
Where to see the best online graveyard search engines in the country (this is where you pick up that extra "edge" for your projects)
How to organize your personal workspace so that you have a great time AND make great progress
How to use the least expensive or free online tools yet still get the same data you'd get from the most expensive sites (even if you never spend one red cent and you're a complete "computer dummy")
Free Bonus!
At no additional costs, we're including the ENTIRE Family Tree Chart Collection as a part of your purchase.
Get your copy of this incredibility comprehensive family tree starter kit.  Your family tree starter kit will be available for immediate download with your purchase of the Step-by-Step Genealogy Guide and includes:
Four Professional Family Tree Charts
Six-Generation Family Tree Template
Step-Family Family Tree Template
Adoptive Tree Template
Kid's Family Tree Template
Detailed Chart Guide – How To Complete a Family Tree Chart
These Step-by-Step Instructions will show you exactly how to complete a traditional 6-generation family tree chart.
Five Family Tree Research Tracking Forms
Ancestor Major Milestones Form
U.S. Military Research Tracking Form
Cemetery Visit Tracking Form
Marriage Index Research Tracking Form
U.S. Census Research Tracking Form
Two Additional Unannounced Special Bonuses
Birth, Marriage, and Death Vital Records Date Chart
Family Relationship Chart
This Family Tree Starter Kit Collection includes all of the core tools required any genealogists tool belt. You'll have the templates, charts, research forms, and reference sheets you need to get everything started right! And it's all free with your purchase.
---
And that's just a fraction of what you'll get with the
"Step-by-Step Genealogy Guide"
Because, look at what else
you'll understand:
What do I do when family's change the spelling of our name; this is the source of a lot of issues?
Where do I go to find a site that is providing all the names and making sure that no one is left off the list.
I need help with dates of birth – how do I make sure each person that is mentioned is the person I'm looking for?
How do I know if I've got the right family tree structure? Do I start with me or with great grand parents?
I simply don't have a lot of money. Where do I find high quality, free online and offline resources that I can trust?
How do I get started? And I don't have a lot of time. I need to have a clear plan that is easy to understand and will allow me to make a lot of progress when I have the time to spend.
What is the best way to find where and when my ancestors immigrated to the United States?
So, how much better would you feel knowing all the answers to these questions and more? Wouldn't you have a much better chance of success in starting your own family tree?
That's why you should own this genealogy research guide today
(in fact, you can be filling out your family tree
in as little as 5 minutes from now!)
To your success,

Chris Clegg
cclegg(at)genealogybeginner.com
T 207.619.2297
P.S. Don't forget, you're getting everything you need to get you started with your family tree research right away. So if that's what you want to do, this is the opportunity you've been waiting for.  Click Here To Download The Step-by-Step Genealogy Guide
P.S.S We use Click Bank to process all orders. Click Bank utilizes the strongest security and anti-fraud features available on the Internet and never stores your financial data on their system! Your credit card data is passed directly to the bank and no one but bank has access to your sensitive information. They are also approved by the Better Business Bureau!