Download a Blank Family Tree Template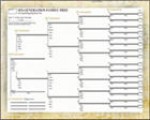 Hello there. Thank you for visiting us here at Genealogy Beginner. We have a great 6-Generation family tree that you can download. Click here to download your template
This template is available for download directly from this site and comes with a detailed instructions guide.
This is a fairly standard six-generation family tree chart that is a great place to start for the first time genealogist or student. The chart has the following key qualities:
It contains ample space to notate the three key dates including birth, marriage, and death
Each key date is accompanied by a reference for location up through the 5th generation
Each sixth generation notation contains space to enter a "continuation number" that can be carried over onto subsequent charts providing ample opportunity to document your ancestors back 12, 18, and even 24 generations
This blank family tree chart is a core tool in any genealogists tool belt. Please feel free to modify this design to your own needs. However, please note that you are given permission for unlimited personal use. This chart may not be sold or traded without written permission of the author.
To your success,