Is Ancestry.com for Sale?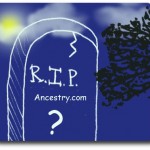 A report June 6, 2012 at Investors.com states genealogy service Ancestry.com is contemplating a sale of the company.
A leader in genealogy services since 1983 Ancestry.com is the biggest online family history service with several websites that aid people in tracing their family trees.
The genealogy giant totals 1.87 million paying subscribers and offers well over seven billion searchable records. On the inside, the company employs 1,100 people and reports June 5, 2012 from the Deseret News state that along with their recent purchase of Archives.com in April 2012 for $100 million, there are also plans to hire 50 to 70 new tech personnel.
The company based in Provo, Utah has seen an overall slow down in subscriber growth and in response is said to have hired Frank Quattrone's San Francisco based company, Qatalyst Partners to source buyers.
Taken as a whole Ancestry.com finished the first quarter of 2012 with:
A 16% rise in subscribers
A 19% rise in revenue
Current market capitalization for the company stands at $964 million
Despite this, last month's cancellation of Who Do You Think You Are, a major promotional vehicle for the company, hit them hard when stocks dropped 13.7% after NBC announced the shows cancellation.