Ancestors in Debtor's Prison
Prior to 1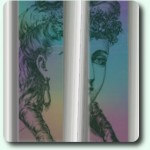 869 in Great Britain, individuals who acquired debt could be sent to jail until their debts were paid in full. For many this could be a life sentence, not only for the insolvent individual but also for their entire family.
As life without the main provider would most often mean severe poverty for the family of a debtor, entire communities began to spring up inside of debtor's prisons resulting in children being born and raised inside them.
In the poignant story "Little Dorrit", Charles Dickens delves into the lives of a family living in debtor's prison. His inspiration for the tale is rooted in his own experiences, as Dickens own father was sent to debtor's prison in 1824 for a debt of 40 pounds. Shortly after his incarceration, the rest of the Dickens family with the exception of Charles who at the tender age of 12 was employed and earning money to support his family joined John Dickens.
Although life in debtor's prison was a harsh existence, there were allowances for debtors living in prisons with their families.  A debtor with a little money would be able to pay for freedoms that might allow a prisoner to conduct business and receive social calls. A practice known as 'Liberty of the Rules' even allowed some prisoners to live a short distance outside the prison walls.
Debtor's Prison Genealogy Records
Your best source of British records for finding information on insolvent ancestors in a debtor's prison is at the British National Archives. This family tree search will take a great deal of patience as the records are not indexed and offer little detail.
Records held in this collection include:
·         Registers and indexes of people served with petitions for bankruptcy (1884-1923)
·         Bankruptcy case files (c.1759-c.1979)
·         Records of Fleet Prison, Marshalsea Prison, Kings Bench Prison and Queens Prison (1628-1862)
·         Registers of documents filed in bankruptcy proceedings (1733-1925)
For a quick online search findmypast has a bankrupt directory for 1820-1843 that includes details of all bankruptcies documented in The London Gazette for the period.