Volunteers Needed at FamilySearch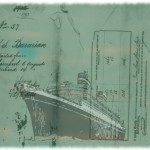 FamilySearch is in the news again with a new project that promises to be one of the most exciting yet for genealogy beginners.
The new project focus is to index U.S. Immigration and Naturalization records as well as passenger lists, border crossing records and passports. The ultimate objective to indexing these records is to make them freely available for family tree enthusiasts looking for their immigrant ancestors.
The variety of information family history hunters can hope to discover from these records includes:
Ancestor's Names
Names of Family or Friends they traveled with
Place of birth
Date of immigration
Date and location of naturalization
Port of origin
Port of entry
Name of ship
To reach this goal FamilySearch is once again inviting the genealogy community to join in and help with the indexing. You do not have to be a professional genealogist, in fact, all you need to do if you would like to become a volunteer on this project is register, sign in and download the indexing software.
To find out more details visit https://www.familysearch.org/us-immigration-naturalization/?icid=fsHomeUSImmNatTxt