U.S. Southern Claims Comission and U.S. Freedmen Bureau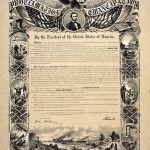 Truly an amazing post from the folks over at Ancestry.com. In Honor of Black History Month, Just-Released Civil War-Era Marriage and Southern Claims Commission Documents Allow African-Americans Additional Chance to Uncover Heritage PROVO, Utah, Feb. 7 /PRNewswire/ — African-Americans seeking to discover family roots obscured by slavery may be one step closer to their heritage.
Ancestry.com, the world's largest online family history resource, today expanded the largest online repository of African-American family history records with two new collections that provide unique insights into African- American family history: Freedman's Marriage Records and Southern Claims Commission Records.
"While these documents depict the horrors of slavery, they also provide invaluable information that help uncover ancestors' life stories," said Megan Smolenyak, Chief Family Historian for Ancestry.com. "These documents further cement the fact that African-Americans can discover their family's heritage, even those ancestors enslaved prior to the Civil War. We're seeing an increasing interest among African-Americans in tracing their roots, especially as collections such as these are made available and accessible online, rather than stored away in archives."
Ancestry.com is releasing the following databases in honor of Black History Month:
Read the full post at   http://blogs.ancestry.com/ancestry/2008/02/06/civil-war-era-marriage-and-southern-claims-commission-documents-now-available/.
…
Where to Next?
Blank Family Tree with Step-by-Step Instructions
…