Titanic Records Released for 100 Year Anniversary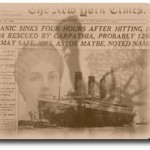 April 15th 1912 is the date that marks the sinking of the RMS Titanic. In remembrance of this, the 100th anniversary marking the loss of 1500 souls, a collection of over 200,000 records have been published.
Included in the collection are:
The Titanic's Passenger List
Information on Crew Members
Coroners files
Records about recovered bodies
Ancestry.com has released this data to correspond with the date of the ships sinking and until May 31 2012, access to this information is free. In addition to the above-mentioned records those interested in genealogy research involving the Titanic will have access to headstone photos of the 121 victims of the tragedy buried at the Fairview Cemetery in Halifax Nova Scotia.
Some exciting news for Titanic and Americana Historians is the inclusion of documents that reference John Jacob Astor IV (American Millionaire), Isador Straus (Macy Department store co-Owner) and Benjamin Guggenheim (businessman).  Those who love celebrity genealogy will be thrilled to hear that the collection also include references to Margaret Brown who may be better known from movie fame as the "Unsinkable Molly Brown".
Access to these records may aid Family Tree enthusiasts in solving their genealogy mysteries and lead to adding a few more names to your Family Tree Templates.