Search results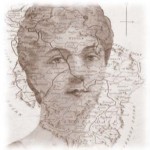 Have no doubt that your family tree research has value beyond the current generations of your own family.
Donating your family history to a local historical or genealogy group is an excellent way to make certain all of your hard work is put to good use. Local Historical Societies and Genealogy groups have a stake in preserving your records for future generations.
How to Donate Your Family Tree
If you are considering donating your family tree research the Continue reading "Donating Genealogical Records" »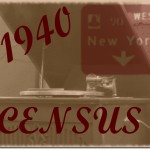 The genealogy community is alive with the spirit of giving and sharing as can be seen by the overwhelming efforts of volunteer indexers. As of April 20, 2012, the 1940's Census Project has over 75,820 indexers.
Since the release of the census on April 2nd:
So far, 14.2% has been completely indexed
Colorado and Kansas have been completely indexed and are being processed in preparation for posting
Delaware is posted online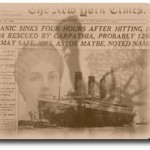 April 15th 1912 is the date that marks the sinking of the RMS Titanic. In remembrance of this, the 100th anniversary marking the loss of 1500 souls, a collection of over 200,000 records have been published.
Included in the collection are:
The Titanic's Passenger List
Information on Crew Members
Coroners files
Records about recovered bodies
Ancestry.com has released this data to correspond with the date of the ships sinking and until May 31 2012, access Continue reading "Titanic Records Released for 100 Year Anniversary" »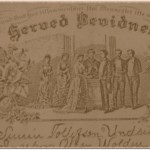 When tracing your Norwegian ancestors, you will learn that climbing your Norwegian Family Tree is a unique experience in genealogy research. From naming practices to language barriers and cultural differences, Norwegian genealogy is distinct in its resources and research techniques. In this article, Genealogy Beginner will pave your path with the basics of Norwegian genealogy research so you can start adding the names of your "Viking" forbearers to your family template.
Ancestors From Norway: Getting Started
One of the first Continue reading "The Basics of Norwegian Genealogy" »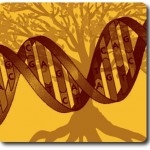 Genealogy Beginner Welcomes Guest Bloggers from the Sinclair DNA One name Study and the Salian DNA Project who have so wonderfully explained everything a genealogy beginner needs to know about how to use DNA testing to help with your genealogy research…and fill out your Family Tree Template!
So what do you do when there are no more records to get you any further back in time on your family tree? Most of us get stuck at a brick Continue reading "Using DNA to Grow Your Family Tree: Guest Blog" »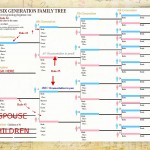 Have you ever felt confused about how to fill out a Family Tree Template?
Wondered what the numbers mean?
Who you should include?
Where to start?
Here are a few simple rules to follow that will have you filling out your Family Template in no time.
Family Template Rule #1 = YOU
Always start with yourself. Your name goes in the number one spot on the chart along with your vital statistics information such as when and where Continue reading "Fill out Your Family Template the Easy Way" »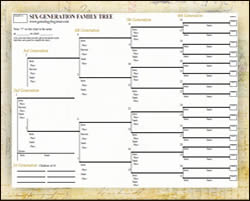 A little while ago we talked about the fact that there are a lot of family tree templates available online. Many of them are extremely fancy and can be very confusing. These decorative templates are great for presentation purposes; however, most people are looking for a simple solution and don't want to spend endless hours trying to understand this box or that branch. I thought I would take this opportunity to describe my approach here at Genealogy Beginner.
Continue reading "Family Tree Confusion" »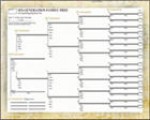 There can be a lot of confusion the fist time you're trying to figure out how to make a family tree. There are so many sites, resources, templates, and so-called experts that you're left wondering which way is up. This short article is designed to provide you with a few simple steps that will allow you to get started so you know exactly how to make a family tree. First you need a blank family tree template. You can get Continue reading "How To Make Family Tree" »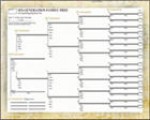 There are a large number of free websites that exist simply for your use in a family history search. These sites contain databases and search capabilities that can quickly aid in determining whether you are on the right path in your search. We suggest you start with a solid Blank Family Tree Template. If you don't know about it already, it is time to become familiar with the Latter Day Saints' extensive Web site, which covers parts of Europe, the Continue reading "Genealogy Search" »