Ships Lists: Free Genealogy Resource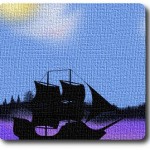 Genealogy beginners looking for immigrant ancestors should head straight over and bookmark The Immigrant Ships Transcribers Guild (ISTG) website.
The ISTG is a volunteer group that has been working since 1998 to transcribe ships lists on a global scale and publish them on the internet. In the years since its inception, the ISTG website has grown to include volumes of passenger manifests.
The scale of the site may make navigating it a little intimidating to the novice family history hunter.  A short tutorial will help make things a little easier.
How to Search the ISTG
Step one:
Locate the search box on the upper left hand corner of the opening page and enter the surname you are researching. This should move you forward to a page with a long list of matches.
Step Two:
On the upper right hand corner of the page, you will find an option for advanced searches…click the option.
The advanced search will give you four text boxes
1.      All – will return pages that include all of the terms entered
2.      Phrase – will return pages matching the exact phrase
3.      Any – will return pages that match any of the terms – in no specific order
4.      None – includes other selected items and must be used in tandem with other fields
For example, entering "Alexander McCallum" into the "All" field returns ships named Alexander as well as passengers surnamed Alexander and McCallum.
The same search entered in the "Phrase" field returns only passengers named Alexander McCallum.
In the Any field these search terms return the same results as entering into the "All" field. It is good to use the "None" field in tandem as you can enter terms you do not want matched in order to narrow your search.
Once you are comfortable using the search function you will be free to search some of this sites great free resources from Jacobite rebellion ships to New York arrivals.
One great feature of this site that you will not want to miss is the ISTG compass, which is a tool to simplify your searches by breaking down resources into consumable information bites.
The ISTG is another site that relies heavily on volunteer transcribers, if you would like to help check out their Guild Application for more information.
Make sure you are prepared for your visit to The Immigrant Ships Transcribers Guild with Genealogy Beginners Family Tree Starter Kit, available with your 30-day free membership.