What is a Resident Genealogist?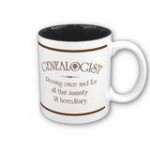 A resident genealogist is a professional on staff at a library, archives or even on a genealogy website who is there to provide family tree research advice and guidance, particularly to genealogy beginners.  A quick question to the resident genealogist may save you time as well as a great deal of frustration and it can be a lot of fun.
If nothing else your Genealogist in Residence is almost certainly, part detective and part historian. A website with a resident genealogist is showing you how much they care about you, their members and how important it is to them to help you in every way they can.
What Does a Resident Genealogist Do?
A resident genealogist:
Searches out new genealogy resources
Provides educational materials
Writes articles about genealogy
Answers questions about family tree research
Can help genealogy beginners to understand genealogical documents
Provides tips and inspiration to keep you motivated
The primary duty of a resident genealogist is to help you learn to conduct your own genealogy research.
How can a Resident Genealogist Help Me?
When you have hit a brick wall a resident genealogist can help you find more resources or make suggestions on where to look next. If you are having a difficult time understanding your ancestor's birth, marriage or death certificate, a resident genealogist is always happy to help.  Any problem you come across is like candy to a resident genealogist, so do not be shy about asking.
What Kind of Questions can I ask?
You can ask any questions you need; no question is too big or too small. When asking your question include the details, give the names dates and places of the ancestor you need help with. State why reading a particular document is a problem, is the writing is too faded or messy. Want to know what a third cousin twice removed is or what all those numbers on a Family Tree form mean…just ask!
Genealogy Beginner encourages you to go to our resident genealogist with your questions. You can usually find her on the Ask a Genealogist forum or on our Facebook page.
Image Credit: dbickert via Photobucket