Pinning your Family Tree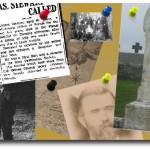 Well it certainly did not take long for family tree fanatics to make use of social media "pinning" sites.
If you are new to social media here is what you need to know about pinning. Pinning is a visual way of sharing your interests via a virtual pin board.  You can create boards based on a singular theme such as genealogy, family tree, family history etc. Ultimately, what these sites do is share links through images. One way to think of it is as a visual bookmark.
Pinning for Genealogy
Pintrest
Pintrest can be used as a fantastic tool for organizing your genealogy, sharing resources and following others with like interests. The only catch is that in order to use Pintrest you must first receive an invitation.
Pinspire
If you do not have an invitation to Pintrest, you can try out its identical twin Pinspire. Pinspire is identical to pintrest with one exception…no invitation required.
If you want to check out more pinning sites, Minglewing, Piccsy and Storify are good places to start.
Uencounter.me
The newest kid on the pinning block is Uencounter.me a pinning site with a purpose. Uencounter.me is a mapping site that focuses on letting the user built a visual map of their family tree.
Building a visual map of your ancestors can be a very helpful tool for your family history research. However, the possibilities for information sharing with this type of application are easy to see.
Imagine the map as a resource for finding ancestors by location. Although other search sites come close, if you are not familiar with the geography of the area you are searching… it is easy to become confused and miss something.
For example:
My line of  McCallum's hail from Lanarkshire Scotland can be found in the census at Firth, Carstairs and Carnwath.  While that may not mean much on a data screen, having a visual of just how close those communities are, helps give some perspective to your search.
Using Uencounter.me
The process starts by bringing up the map and asking you to zoom into your area of interest. You can also pin a place by adding the address.
Drop down menus let you select:
Type of Encounter: Genealogy,
Dates to and from: a date range from the present to the year zero,
People Here Are / were:  ancestors
This pin relates to:  an ancestor
Specifically:  Birth, Marriage, Death, other
For those of you who want to pin live relatives do not worry as the site gives the option for a privacy setting on an individual basis. As you move forward to the next step you will get a pop up box that allows for notes, you can even add photos.
While Uencounter.me shows all the earmarks of a superior genealogy tool, a searchable name function would make this an invaluable free resource for genealogists everywhere.
Need to learn more about finding your ancestors through the geography of genealogy check out Genealogy Beginners lesson on Searching by Place. Available with your 30-day free trial membership.