National Archives Announces Death of Legendary Archivist John Taylor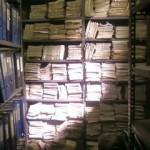 Sad News from the National Archives, A press release September 23, 2008, announces the passing of archivist John E. Taylor. Best known for his "encyclopedic knowledge" on the subject of World War II intelligence records, Mr. Taylor, an employee of the National Archives for 63 years passed away in his home on September 20th, he was 87 years old.
It was in September of 1945, the week that WWII formally ended that John E. Taylor began his career with the National Archives; a career highlighted by many honors and awards including the (OSS) Office of Strategic Services, Society Distinguished Service Award and a lifetime achievement award from the Scone Foundation, established by Stanley Cohen; an award that honors unknown professionals for their important contributions.
In a Washington Times Article from 2003 Mr. Taylor was referred to as a "Wizard of Research" Through his many years at The National Archives he aided thousands of persons with their research from students to best selling authors.
Mr. Taylor was born in Sparkman AR, in 1921. While still a student at the University of Arkansas he wrote the Civil Service exam in 1945 but was precluded from military service due to blindness in one eye.
Mr. Taylor is predeceased by his wife Dolly to whom he was married 44 years and a brother James; he is survived by his niece, Claudia Taylor Walsworth of Ketchum, ID and Nephew James E. Taylor Jr. of San Ramone, CA. Memorial services are planned for mid October.
For the full story visit: The National Archives: Press Release September 23 2008.
…
Where to Next?
Blank Family Tree with Step-by-Step Instructions
…