Making A Family Tree – Graveyard Rabbits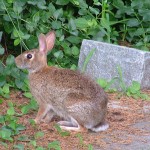 Making a family tree is never an easy undertaking. There are a lot of things to figure out and organize. However, regardless of where you are in the process of making your family tree you'll find that knowing a bit about researching graveyards will make a huge difference. Today, I'd like to reference the works -as I've done often before – of Southern Graves who provides a great little story about the Graveyard Rabbit that I'm sure you'll enjoy.

By way of introduction, the author writes:
My nickname in high school was "squirrel," but it turns out I am really a rabbit. A Graveyard Rabbit, that is.
If you haven't noticed the new statement in the heading, I am a charter member of The Association of Graveyard Rabbits. This group was founded by Terry Thornton, and she writes all about the name at her new The Graveyard Rabbit of the Hill Country blog. The short of it is the name came from a poem entitled The Graveyard Rabbit by Frank Lebby Stanton. My favorite lines of the poem are in the very beginning.
In the white moonlight, where the willow waves,
He halfway gallops among the graves –
A tiny ghost in the gloom and gleam,
content to dwell where the dead men dream…
This definitely describes my passion for cemeteries and the histories they share. Let's break it down:
"In the white moonlight, where the willow waves"
I don't visit cemeteries at night too much, only because it's hard to read the stones and take pictures then! However, there are often live willows waving when I visit, as well as many stone willows standing tall.
"He halfway gallops among the graves"
At the risk of sounding silly, if I'm at a Cemetery I've never visited before, I often do the same thing! I go from stone to stone, in no kind of pattern, just to get a feel of the place. Plus, an interesting monument from afar gets my interest and I must check it out. I have to make myself at some point stop and systematically go through the graves for proper transcription, photographs, and to begin to get the full history of the Cemetery and those interred.
"A tiny ghost in the gloom and gleam"
I and my visit are but a tiny speck of the whole history of most cemeteries. Especially those that have been around for hundreds of years. There have been many visitors before me, and there will be many after me.
"Content to dwell where the dead men dream"
That statement is a simple fact that applies to me. I am very content walking among the headstones, reading them, photographing them, and learning from them.
I hope you will continue to join me on my journey through the cemeteries of the southern United States at the Southern Graves site and this Southern Graves blog.
Really great stuff, wouldn't you agree? This is the type of story that makes genealogy and family history research so much fun. Sure, there is the process of hunting down certificates, finding dates and dealing with name changes but then there is also the rich history of the past written in stone. Grave Yard Rabbits are truly a wonderful group who I'm sure we will be revisiting in the future.
(This posting is from Southern Graves.)
…
Where to Next?
…