How To Make Family Tree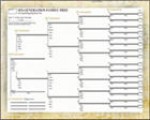 There can be a lot of confusion the fist time you're trying to figure out how to make a family tree. There are so many sites, resources, templates, and so-called experts that you're left wondering which way is up. This short article is designed to provide you with a few simple steps that will allow you to get started so you know exactly how to make a family tree. First you need a blank family tree template. You can get one for free at the www.genealogybeginner.com website. Once you download your blank family tree template you'll need to complete it for yourself and your parents.
Just start here. It can be as simple as digging out your own birth certificate and (if appropriate) your marriage certificate, writing do the dates on the blank family tree template, and filing away our certificate copies.
Next you do the same for your parents. You'll likely need to speak with them about their own parents and to ask for original copies of their birth and marriage certificate so you can make copies and add them to your records.
And that is really what building a family tree is all about. The trick to how to make a family tree is not all that hard (but can be frustrating if you don't have the basics). It's a process of identifying the three primary certificates for each of your ancestors (Birth Certificate, Marriage Certificate, and Death Certificate), obtaining copies, and then making notes about who leads to who on a family tree.
Now your family tree search doesn't need to be limited to just this. While these are the core tasks there is a wealth of other items you can work on and develop to make your tree even richer.
For example, you'll want to collect any family artifacts you come across like:
Photos
Deeds
Court filings
Estate records
As well as anything "official" that marks the existence of your family. Some folks make a point to take photos of grave stones or even do gravestone etchings to add to their tree.
With all of these materials in place, you have the basis for a great scrapbook or similar type family heirloom that can be passed down for generations to come. Get an artistic rendering of your official family coat of arms (if you have one), put it on the cover, and you have a wonderful book that defines your legacy.
You see, learning how to make a family tree doesn't need to be complicated or overly confusing. It simply takes a little understanding of the basics and the will to figure it all out. Check out the resources below if you need a little more assistance: