How to Make a Family Tree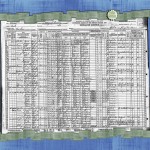 Some great advice from veteran genealogist on how to make a family tree.  This is good advice on the "three documents" [birth, marriage, and death certificate]. However, the Federal Census' comes up there in documentation. I've gotten more information from these when I couldn't locate the other three.
Finding out what the head of household's occupation was gives you clues in other places to search! Having other family members names listed can help also. Parents that have disappeared on records, could be living with one of their children and found listed under that household. In-laws , grand children, etc. They may have done Their research, posted it online and it could make the connection you're needing.
I found out one of my great grandmother's remarried, hence I couldn't find her death record. I was looking under the wrong name and hitting brick walls. Her second husband had also died, she spent her last days with her daughter and son-in-law.
If they [your ancestors] were  farmers, they probably owned the land, land records are very helpful. If they was a doctor, you can go to the Retired American Physicians listing and get information there. The information is out there, one just needs to learn how to SEARCH the available records. The "three" are not always easily found.
Names change as you go back in history. For example, my great grandfather's birth certificate shows him as simply "Henry", his father called him "Senator", his mother called him "Roy". Some public records list him as "S. Roy or S.R.". Bottom line being his birth states "Henry" and his death certificate "Roy" This as you can imagine, took some time to understand that this was all one in the same person.
Hard lessons learned, as I didn't have the resources available to me as they are today. (We're talking back in the late 60's – 80″s) Everything was done by writing a letter and waiting patiently for a reply.
Plus this same individual [Henry/Roy] died in 1948, and was cremated. Family lost track of his ashes. I couldn't find his burial any where, 30 years of searching and I finally hit pay dirt! He was buried with his wife when she died in 1962!! The only record to back this up was found in her file at the cemetery.
Just wanted to offer some other avenues that you may want to pass on.
Thanks again for the great advice. I'm sure this will be very helpful to new and seasoned genealogists working to fully understand how to make a family tree.
…
Now It's Your Turn!
…