How to Make a Family Tree – The NARA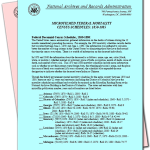 Below is a great article about how to make a family tree through the eyes of a first time visitor to the NARA. In it the author discusses the value of the color guides used to assist researchers with the NARA's most common records. Make sure you visit the link below to visit the source of the guides online. These resources will surely help you figure out how to make a family tree.
I recently made my first visit to the National Archives and Record Administration (NARA). This is one in a series of articles inspired by that visit to help you make your first visit to the National Archives.
Colored sheet finding aids
National Archives staff have prepared over 160 pages of finding guides to assist researchers with their most common records. These guides are printed on various hues of colored paper. They can be found on a rack in the lobby once you arrive at the Archives.
Not 100% sure the purpose behind the color. These might have been a way to help them stand out or perhaps a coding system. If I learn more I'll update this post.
While the National Archives has decided not to put these guides online, fortunately, the Mount Vernon Genealogical Society has decided to fill this void. The Mount Vernon Genealogical Society is located in the Washington, DC suburbs where society members are lucky enough to make frequent visits to the National Archives. Some members work there.
Harold McClendon, publicity chair for the society, says,
To make these sheets available to everyone, the Mount Vernon Genealogical Society is placing all of the guides on its web site in PDF format. The guides are organized into the following categories: African Americans, Asian Americans, Census, Citizenship, Civilian Federal Employees, District of Columbia, Early Congressional Private Claims, Immigration, lands, Military, Native American and 1885 State and Territorial Censuses. As new sheets are issued by the National Archives, copies are being added to the web site.
To access these finding aids, go to http://mvgenealogy.org/NARA_Guides.html. McClendon recommends printing the guides related to your research.
As you review the guide, you will then be better able to determine the specific publication to review in search of the desired records. You might even find that the National Archives has publications that you never knew existed.
Thank you, Harold McClendon and the Mount Vernon Genealogical Society for extending this service to the genealogical community.

(This posting is from The Ancestry Insider.)
Great information thanks to the folks at The Ancestry Insider. Use the link above to visit the original post directly and browse their site overall. When trying to figure out how to make a family tree every little bit of information helps.
…
Where to Next?
Blank Family Tree with Step-by-Step Instructions
…