More:How to Make a Family Tree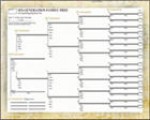 Making Your Family Tree Chart is as Easy as 1-2-3! First, understanding exactly what a family tree is and what it looks like by downloading genealogy charts. This will provide clarity and direction. You are the first entry, then your parents, then your grandparents. If you have supporting documents, write in ink, otherwise, use pencil.  Once you've exhausted your resources at home, it's time to start searching online and elsewhere.
Simply follow these three simple steps and you'll be up and running with your family tree in no time. Start by getting yourself a Blank Family Tree Template
---
The Step-by-Step Genealogy Guide
Family Tree Templates
Exactly How To Make a Family Tree Chart
Where to Find Birth, Death, and Marriage Certificates
How to Deal With Name Related Issues Like Spelling Changes.
And much more . . .