Google Books and Your Family Tree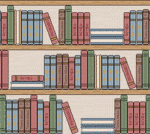 Google Books can be an amazing resource for beginning genealogists. Whether you are looking for information specific to your family tree, something related to a current research interest like military records or general information on genealogy; Google Books is a good place to start.
To Find Google Books:
Go to Google.com and hit the little arrow at the top of the toolbar next to "more"
In the drop down menu click on "Books"
You should now be on the Google Books, search page.
Search Google Books for Genealogy Treasures
It is easy to find books with Google Books; all you do is enter a keyword into the search box. For example:
When I enter "Military Records", I get about 1,860,000 results, including:
·         Military records: Confederate soldiers, 1861-1865
·         U.S. military records: a guide to federal and state sources
·         Army Records: A Guide for Family Historians
A general search under "Genealogy" brings about 6,750,000 results, including:
·         Genealogy Online For Dummies
·         The Online Genealogy Handbook
·         Genealogy: a practical research guide
Of course, you can alter your search terms to be location specific or even surname specific.
Using Google Books to find a specific ancestor can really pay off as well. Using my ancestor "Marin Boucher", I find the following:
The Boucher heritage
books.google.caLaurent Boucher – 1999 – 298 pages – Snippet view
This map also shows that Marin Boucher and two of his sons, Francois and Jean- Galleran, had settled near the present village of Chateau-Richer about seven miles from Quebec City: It is worthwhile noting that many of the colonists whose …
"200" family trees: from France to Canada to U.S.A.
books.google.ca – Snippet view
The above Jean Galeran Boucher was the son of Marin and Perinne Mallet who were married around 1628 at St-Langis-les-Mortagne,France. Marin Boucher's parents were unknown but he came from Mortagne.He was the brother of Jeanne who was …
If you want to see information about a book listed just click on the title of the book.  By doing this, you may also find (if the author has given permission) "snippets". Snippets are areas of the book specifically related to you search terms. Snippets will tell you how many pages in the book match your search terms.
When you find a book you are interested in you can select the "Buy this Book" option or "Find this book in a library" and be directed to a library where you may borrow it. Sometimes, if you are lucky the book you find may be out of copyright and available free online.
Another search option you can try with Google Books is "Full View Books". Select this option when you only want to search for books you can fully view online.
Genealogy Beginner encourages you to try using Google Books for your family tree research. If you find any amazing books, please share your discoveries with other genealogy beginners on the Discovery Panel forum.
Image Credit: someofthisandthat via Photobucket