Genealogy and Volunteers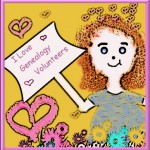 Whether you have been researching your family tree for a long time, or are just getting started, it is likely you have benefited from the services of a genealogy volunteer.
Genealogy volunteers are often hiding behind the titles indexer, transcriber and look up. You can find them anywhere in the world from local libraries to National Archives.
The work they do often helps thousands if not millions of family history hunters across the globe on a daily basis.
One great example of genealogical volunteerism is the progress that has been made on the 1940 US Census. With the aid of tens of thousands of Family Search volunteers, the 1940 census has now been fully indexed…after only five months.   As if that is not accomplishment enough, other volunteers were busy adding to the Historical Record Collections for several countries.
In fact, anywhere you find free genealogical resources there are genealogy volunteers behind it. Some genealogy volunteer groups past and present that deserve a mention are:
·         Genealogy Helplist
·         Genie Angels
·         USGenWeb Project
·         American Local History Network
·         Missouri Slaves/Slaveowner Database
·         Random Acts of Genealogical Kindness
·         Olive Tree Genealogy
No matter what size the project from indexing a census or helping out at a local library. Genealogy volunteers deserve a huge thank you from all of us genealogy beginners for making our ancestors a little easier to find.
Be prepared to start tracking down the missing branches on your family tree with Family Tree Charts and Research Tracking forms available with your 30- Day free trial to Genealogy Beginner.