Genealogy for Halloween: A Treat from Genealogybeginner.com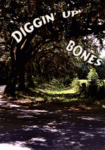 Genealogy and Halloween go together like "Trick or Treat".  After all, who is more interested in the spirits of the past than your average ancestor hunter. If you needed any more proof of that, you would not have to go farther than a visit to some of the preeminent genealogy sites and blogs, such as GeneaBloggers or Genealogy.com.
Here is a look at how the genealogy community is celebrating this holiday in spooktacular style
A Halloween themed Radio show
Set your calendar for Friday October 28 to catch "Haunted by Ancestors – A Genealogy Halloween Special!" presented by GeneaBloggers at:  http://www.blogtalkradio.com/geneabloggers/2011/10/29/haunted-by-ancestors–a-genealogy-halloween-special. The show will feature professional genealogist Henry "Hank" Jones Jr., who will be speaking on his book "PSYCHIC ROOTS: SERENDIPITY & INTUITION IN GENEALOGY".  Other guests included in the October 28 radio show are Paul J. Bunnel, genealogist slash certified Ghost Hunter and Melinde Lutze Byrne, vice president of the American Society of Genealogists and former skeptic.  The show is moreover proclaiming a mystery guest, someone who will make an important announcement asserted to be of great interest to the genealogy community. GenealogyBloggers Radio certainly promises an entertaining evening of bone digging fun.
Historic Halloween pranks
Over at Genealogybank you can find an entertaining post titled "Halloween 'Tricks'—One Subtle, the Other a Blast".  Offering an interesting historic look at the "trick" side of this well-loved celebration, Genealogybank has tracked down a couple of old newspaper articles based on the past hijinks of Halloween tricksters. Sharing some of the fun genealogists can find in searching newspaper archives and giving us a very instructive read.
From the graveyard
A Spooky Genealogy: A Cemetery Find is what you will find when you go Trick or Treating at the Ancestor chase Blog.  A visit to this site will give you the chills as they recount the tale of a strange and unexpected genealogy discovery.  One that was perchance initiated from beyond the grave, by those lost from the family tree record.
Genealogy.com is joining in the Halloween amusement with a fantastic article on cemetery searches.  The article covers Getting Started with Cemetery Records as well as Cemetery Records and Gravestones. In addition to this wonderful information, there are some great tips on finding additional sources for your cemetery search.
Show of your generations
MyHeritage.com is holding a Halloween Family Photo competition, what they are looking for are creative and original photos of families dressed up in their Halloween best.  Uploading your favorite family Halloween picture, old or new, onto their Facebook page could win you a premium subscription at MyHeritage.com.  Contest entry ends November 1, 2011. For more information, give them a visit.
Story time
If spooky stories of generations past are what you have in mind this Halloween, then Ancestry.com should be on your list with a message board dedicated solely to scary ancestral tales.
In the news
A week of Family Tree Halloween merriment would not be complete without this wonderful headline maker from The Associated Press.
Prince Charles linked to Dracula
"LONDON The truth is out: Prince Charles is related to Vlad the Impaler.
The heir to the British throne says he is related to Vlad the Impaler, the cruel 15th-Century Romanian warlord who helped inspire Bram Stoker's 1897 vampire novel "Dracula."
For the complete story visit: http://www.thespec.com/whatson/celebrity/article/615644–prince-charles-linked-to-dracula
Wrap up
Of course, this could not end properly without a Samhain Salute from Genealogybeginner.com
Personalize funny videos and birthday
eCards
at JibJab!
Have a Safe and Happy Halloween!