Free Genealogy Translation Services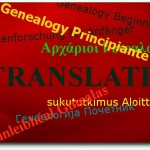 If your ancestors are from Europe, Asia, Russia, South America or another non-English speaking region; you are probably among countless other family tree researchers who will eventually need help translating your genealogy documents.
Although free online translators have become an abundant resource on the net, when it comes to archaic words, idioms or technical terms they may fall short of expectation.
Live translation services can be costly however; there are some wonderful folks out there who offer genealogy translation services free of charge.
Linguanaut. Is a site with access to 150 translators, their goal is to connect people in need of a translation with a volunteer translator.  To get started just click on Free Translation then choose your language and they will match you up with a translator. (Short non-commercial translations only).
 Freelang: is a fantastic resource with hundreds of volunteers that offers free "short" translations for non-commercial reasons.
To use their service all you need to do is:
select a language
select a translator
fill out their contact form
Your translator will contact you via email with your translation.
Cucumis: is based on the exchange of services for the benefit of all. This service works on a point system, for example; you can earn points by translating something for another member. However, even if you only speak one language you can still earn points simply by signing up
WikiTranslation.  This site is the simplest to use. All you need to do is fill out their translation request form and someone should get back to you via email.
Of course, there are other language specific services available as well and a quick Google search should give you a list of sites in no time. Happy ancestor hunting.