Forces War Records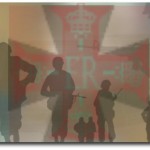 If you are searching for ancestors who served in the British Military Forces, you may want to check out Forces War Records; a new genealogy site that looks to be one of the best-organized search sites of its kind on the net.
Forces War Records has over four million records for British Armed Forces personnel.
However, what makes this site special for family tree researchers is its search system.   The records are cross-matched with bases, and regiments as well as Ships of the British Armed Forces, providing a usage that is easy to apply, accurate and time saving.
The Records Include

World War One

World War Two

Crimean War Databases

Boer War Databases

African Wars Databases

Indian Mutiny Databases

Napoleonic Wars Databases

Medal Rolls

Individual Battle Data

Other Wars Casualty Lists

Prisoner of War Records

Royal Marines Databases

Fighter and Bomber Command Losses

Fleet Air Arm Data

RFC/RAF List

RN Losses

Shot at Dawn Database and more !!!
The site has many cool features including:
  A free search for WWII POWs with information that lists
Name
Rank
Service Number
Regiment
 POW number
Camp type/number and location plus notes.
     A free medieval search with  search tips
      A community forum
      Tutorials
     A "Memories" section where you can record your own or read stories left by other members.
     Genes Magazine: an online journal that gives access to How to and historical articles.
Some other aspects of the site include the ability to save your searches and bookmark pages to your profile. Of course, registration is required to use the site and there is a reasonable fee for full access to records. Although the fees are reasonable, prospective users should be aware that they are in pounds sterling.
 Before you get started on your search at Forces War Records, be sure to download Genealogy Beginners Military Research Tracking Form, available with your 30-day free trial membership.