Free Family Tree Templates (Blank Family Trees)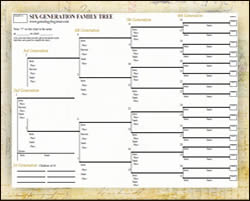 Visitors to Genealogy Beginner are often looking for family tree templates they can use to get a better understanding of what their family tree should look like.
Click here to download the template
A couple days after you download your tree we'll show you another great place to find an archive of hundreds of thousands of images of family trees. Great to develop ideas and explore new formats.
We'll also direct you to a list of link that will direct you to a web page where you can download free blank family trees. We've avoided any sites that require registration and reviewed everything to make sure there were no strings attached.
When you download your free blank family tree we'll ask for your email address so we can send you this follow-up information along with great tips and techniques to help you start your genealogy project.
As we come across new sites like these, I'll be sure to add them to the list. You can look forward to the following downloads a couple days after you download your first free family tree template:
Family Tree Resources
Family Tree Research Extract
Other Templates
Family Tree Chart (Requires MS Excel)
I hope you find these links helpful. Let me close by recommending a great article by Rachna Gupta about family tree charts and templates. She has some fantastic recommendations and does a wonderful job talking about how you can create your own, unique family tree design.
So… why don't you click on the link below and get access to your free family tree templates today: