Family Tree: New Genealogy Spoof by HBO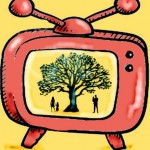 Genealogy buffs and family history fanatics are going to want to tune in to HBO's upcoming new series spotlighting our favorite pastime.
The new series aptly named Family Tree is the latest project from screenwriter-director Christopher Guest (Best in Show, Waiting for Guffman and a Mighty Wind).
The story centers on the character of Tom Chadwick. A man who after losing both his job and his girlfriend receives a mysterious box from an equally mysterious great aunt: the box containing curious stories starts Chadwick on a quest to research his family tree.
Cast of characters include:
Tom Chadwick:  Chris O'Dowd ("Bridesmaids")
Tom's father, Keith:  Michael McKean (Hairspray, The Homecoming)
Uncle Andy:  Ed Begley Jr. (November at the Mark Taper Forum, "St. Elsewhere")
Andy's neighbor:  Fred Willard ("Anchorman")
A friend of Tom's cousin:  Don Lake ("Return to Me")
HBO has ordered eight episodes of the mockumentary style British comedy, which will air in 30-minute episodes on BBC 2. No word yet on when the series will begin.