Family Tree Confusion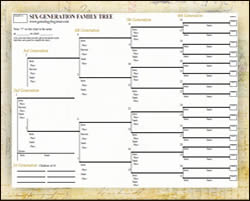 A little while ago we talked about the fact that there are a lot of family tree templates available online. Many of them are extremely fancy and can be very confusing. These decorative templates are great for presentation purposes; however, most people are looking for a simple solution and don't want to spend endless hours trying to understand this box or that branch. I thought I would take this opportunity to describe my approach here at Genealogy Beginner.
I've taken what I've learned from others and brought it together into a simple, yet comprehensive family tree template. You can download this simple to use template by clicking on the link at the top of this page titled, "Family Tree Template".
You'll find that this complimentary template is a great way to get started; it has been designed so that you can be filling out in a matter of minutes. On this template you will see that there is a lot of space to notate the key documents (namely birth certificates, marriage certificates, and death certificates) as well as a space to insert a location for up to the fifth generation. At the sixth generation you can notate a continuation number to be used to carry your chart on to additional generations.
A family tree template is a critical to any genealogy project and i'm sure you'll find ours will quickly get you rolling on your family tree project. Click on the link below to access your free copy now. Good luck to you. I really hope you find this useful and are able to find a wealth of family tree success.