A Family History of Witchcraft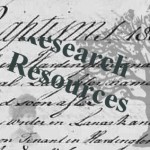 "In the Nineteenth day of March last I went to Salem Village, and lodged at Nathaniel Ingersol's near to the Minister Mr. P.'s House, and presently after I came into my Lodging, Capt. Walcut's Daughter Mary came to Lieut. Ingersol's and spake to me; but suddenly after, as she stood by the Door, was bitten, so that she cried out of her Wrist, and looking on it with a Candle, we saw apparently the marks of Teeth, both upper and lower set, on each side of her Wrist."
Such is one account of a person afflicted by witchcraft in Salem Village in 1692.
Mary, daughter to Militia Commander Jonathan Walcott was one of the first of the accusers in the Salem Witch trials and one of the accusers of Bridget Bishop, the first woman to be executed during the trials.
All Hallows Eve is quickly approaching and those with ancestors involved in witch trials may be interested in learning about some fantastic research resources.
Number one on the list is, The Wonders of the Invisible World Being an Account of the Tryals of Several Witches Lately Executed in New-England, to which is added A Farther Account of the Tryals of the New-England Witches written by Cotton Mather and Increase Mather. You can read about Mary, Bridget and many others in this account of the trials given by peoples involved. A digital copy of this book can be found free at Project Gutenberg.
Another interesting resource is The Associated Daughters of Early American Witches. This group focuses on sustaining the memory of those accused of witchcraft in Colonial America. This membership only society also actively searches out living descendents of the accused.
If your interests lie overseas, you will want to check out The Witch Hunts (1400-1800). Amidst the great information on the website, is an online mock-up of a witch-hunt set in Germany in 1628.  In this simulation, you play a fictional character however, the events are historically accurate (warning, this may be disturbing to some).  The outcome of your trial will depend on choices you make during the simulation.
One last resource is the Survey of Scottish Witchcraft 1563 – 1736. On this site, you will find a database containing the names of almost 4,000 people accused of witchcraft in Scotland.
Before you start trick or treating for your ancestors download Genealogy Beginner's fantastic Family Tree Charts and Research Tracking Forms available with your 30-Day FREE TRIAL.