Family Heirlooms: Preserving the Past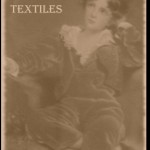 Those interested in climbing their family tree often have a passion for the stories and keepsakes passed from generation to generation.
It is not surprising that they frequently find themselves the guardians of traditions, stories and irreplaceable family heirlooms.  Family heirlooms come in many forms, from jewelry to old diaries to 100-year-old garments like christening gowns.
Being the keeper of the family treasures is a big responsibility and rarely taken lightly.  While some heirlooms are easily cared for, others such as very delicate old textiles like quilts, needlework pieces, dolls and garments require very careful handling.
Old Textile Do's and Don'ts
Caretakers with the best of intentions sometimes damage old textiles through lack of knowledge. The following list will help family historians in following the first rule of caring for your family's textile keepsakes…do no harm.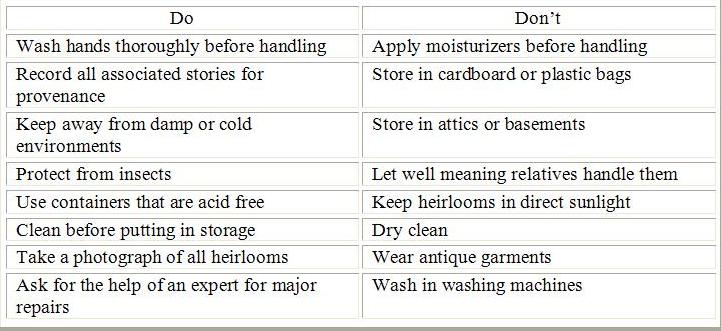 Cleaning Old Textiles
Old textiles are often weakened through time. When cleaning never wring, scrunch or hang them as they may tear easily. Always lay them out flat to dry and wrap them in acid free tissue paper or a clean white cotton sheet before storing.  It is very important that heirloom textiles are always stored flat and never crushed.
Wool
Before you clean any antique woolen garment, it is a good idea to test it for color fastness.  To do this simply apply a little water then squeeze it in between some paper towel. If the color bleeds, you will need to give it a vinegar treatment to stabilize the dye. To do this, soak the garment in a mixture containing one gallon of water to one tablespoon of white vinegar for five to ten minutes. To dry the garment place it between a couple of thick absorbent bath towels, press out excess moisture and lay flat to dry.
Cotton
Cottons have a tendency to yellow with age and shrink if not dried properly.  Before attempting to wash any cotton garment or textile, try cleaning with a soft brush and a low suction vacuum.  When cleaning cotton garments it is best to treat stained areas with hydrogen peroxide rather than to attempt cleaning the entire garment. Before attempting, any major restorations consult a professional.
If you're the guardian of your families textile treasures Genealogy Beginner recommends reading "The Textile Conservator's Manual", by Sheila Landi available from Amazon.com.