Facebook Drawing – Sylvania 2GB MP3 Player/ Voice Recorder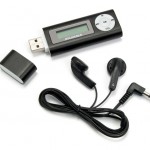 We've just reached 100 Facebook fans and to mark the occasion we're doing to do a drawing among those who have joined the FB Genealogy Beginner community.
Click "Like"  or add a "Comment" on our genealogy Facebook page. We'll do the drawing Monday 12/05/11 and mail this great Synvania 2GB MP3 Player/ Voice Recorder to the lucky winner.
We think you should use this to whisper verbal notes excitedly from the library stacks as you dictate the details of a previously unknown ancestor. However, you might find the MP3 player a great way to bring your music along on your next walk. You could give it away as a gift for the holidays but we think this is something you'll want to keep for yourself.
Regardless, make sure you leave a comment or "like" this post on FB and include yourself in the drawing. We'll announce the winner on Monday.
Photo Source: Woot.com