Cemetery for Cubs Fans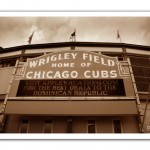 You read that correctly, yes, a cemetery for Cubs Fans. That is the latest news from Southern Graves. It seems however that everyone is a-buzz with this news. In an article from the Chicago Tribune:
"Cubs fans hoping for a World Series title before they die at least can be buried in a place that looks like Wrigley Field when they do."
Beny Lipsman for the Chicagoist writes in his article "Pushing Ivy?"
"Marriage may be til death do us part, but apparently allegiances to one's baseball team last even longer."
Filed under Odd News the article titled "Cemetery gives Cubs fans burial site" from United Press International covers the story by saying, "Ground was broken Friday for a burial site at a Chicago cemetery modeled after a portion of landmark Wrigley Field to accommodate die-hard Chicago Cubs fans." This could definitely make for some interesting genealogy research in years to come.
To read the full article visit Southern Graves
…
Where to Next?
…