Searching Cemetery Monument Foundations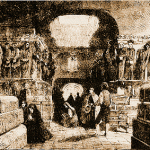 This book will intrigue anyone involved in serious genealogical research, posing a whole new way to uncover family roots and facts through research into cemeteries and their contents. This book has all kinds of great information from funeral art to conducting cemetery surveys. The author, Sharon Debartolo Carmack, covers how to access and interpret death certificates, obituaries, coroner's records, wills, memorial and prayer cards, funeral home records, and mortality schedules. She also outlines the process of locating individual graves and elusive cemteries.
You can read more about this guide on Amazon.com:
Your Guide to Cemetery Research
…
Where to Next?
…