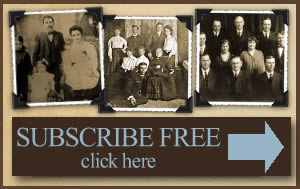 Hello there,
Thanks for the visit. My name is Chris Clegg and I've been a professional researcher for over 18 years now. I founded Genealogy Beginner because I've always been fascinated with the process of discovery. Research is about finding the answers.  Working to uncover truths that are not otherwise apparent or immediately available.  Genealogy it as a perfect way to expand one's understanding of research as a practice.  A genealogist is really just a researcher of the past. A Continue reading "Welcome!" »

Here is your lesson text in this spot.
I was hoping to learn exactly where to start. I was going to so many different resources and getting confused as to what was what. I needed to get more organized and you helped me do that.

Many thanks for the download of your excellent template. I shall be using it in the near future, since I have only just began to order all my known ancestors onto index cards. My problem is that I and anyone born before me have been born abroad and not to British Citizens.
Some of the sources have been destroyed, therefore cannot be accessed. Also, to complicate the story even further, the various ancestors come from roughly four different areas in Continue reading "Erika D." »