Ancestry.com: SOLD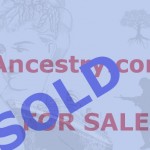 Thank You Ancestry.com for the countless Family Trees that have been built due to the access you have provided.
Thank you for the Census, Passenger lists and military records: not to mention the numerous collections and genealogical documents dating back to the 13th century.
Ancestry.com has been providing service to genealogists around the world for the past 15 years. Starting out in the 1980's as Ancestry Inc: back at the beginning of online research when family history hunters had to use snail mail and visit dusty old libraries and archives.
Since that time, the company has grown to more than 2 million online subscribers.
However, as the saying goes…all good things must end…and October marks the end of an era for the genealogy giant.
This week Ancestry.com will pass the hat on to private equity firm Permira, who purchased the company for $1.6 billion. Ancestry's new owners report that there are big plans in store for the company. Spokesman and partner for Permira, Brian Ruder stated, "With its pioneering technology and market leading position, Ancestry.com is an exciting investment opportunity for the Permira funds," adding, "We are thrilled to be able to back the company as it continues to develop new and innovative content, and expand in both its core markets and into new geographies."
At sale date the company employed 850 people in 10 offices across the US, Britain, Italy and Germany.
Ending on a positive note, Tim Sullivan a chief executive of Ancestry.com remarked,   "This is a successful outcome for our public stockholders, and a great day for Ancestry.com employees and subscribers around the world."