Affiliates
Affiliate Resources
We offer an amazing 75% commission on any sales through our affiliate organizer at ClickBank.com. With high conversion rates, a broad consumer base, and stunning ebook covers and banners, successfully working in the genealogy beginner's niche has never been easier.
Affiliate Resources
ClickBank Hoplink
Our affiliate program is managed by ClickBank. If you haven't already, head on over to ClickBank and sign-up for a free Affiliate Account.
Simply send your website visitors to the URL below for 75% commission. http://ClickBankID.cclegg07.hop.clickbank.net/
We are regularly split testing our landing page and price points. Price point tests range from $12.00 to $27.00. We are currently working on a video series to enhance the offering.
The landing page will be updated automatically as these changes take place. You won't have to do anything other than collect higher margins.
Banners and eBook Covers
The graphics below can be used to direct visitors to our sales page via your hoplink. These graphics are provided only for the purpose of forwarding visitors from your site to ours.
To download the graphics, please right click select "save as". You are also welcome to use our image url to post these directly to your site.
Banner (468×60)
Image URL: http://www.genealogybeginner.com/wp-content/uploads/2008/11/banner.jpg

Small eBook Cover (200×285)
Image URL: http://www.genealogybeginner.com/wp-content/uploads/2008/11/s-ebook.jpg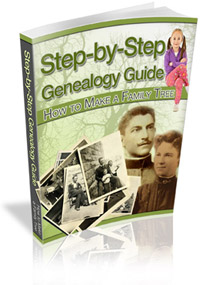 Medium eBook Cover (260×370)
Image URL: http://www.genealogybeginner.com/wp-content/uploads/2008/11/m-ebook.jpg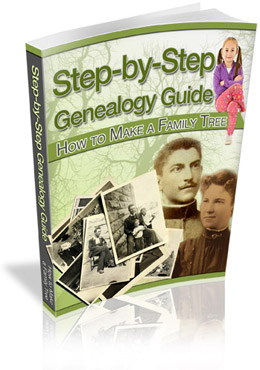 Large eBook Cover (349×497)
Image URL: http://www.genealogybeginner.com/wp-content/uploads/2008/11/l-ebook.jpg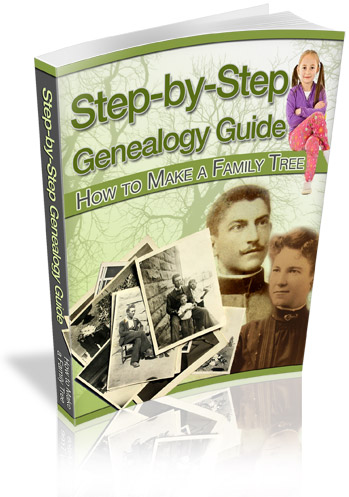 Customer Profile and Research
The typical Step-by-Step Genealogy Guide customer is middle aged or older. We attract both men and women from countries where the primary language is English.
We're currently seeing targeted traffic convert overall at a 1 to 64 ratio or 1.56%. Canadian and English visitors tend to convert at a higher rate than those from the United States but not too much higher.
Consumer research revealed a clear set of problems that this eBook solves. Highlighting these solutions in your marketing/ advertising is recommended:
Help with access to information, databases, searching resources, and people
How to find African, English, and "overseas" ancestors
How to find blank family trees, templates, record keeping sheets
Confused with the range of resources
Dealing with the high costs of search sites
How do I develop a plan/ how do I get started
Where can I find easy access to certificates (birth, death, and marriage)
What does a family tree look like/ how is it designed
How do I know which town to search in
Where do I find information about immigration to the US
How do I mange my project/ manage my time
Joint Ventures and List Sharing
We have a successful, responsive list that grows by 10 to 20 new double opt-in subscribers per day. Average open rates are 38% with link click-through-rates averaging from 25% to 45%.
I would be happy to consider any JV or List Sharing opportunities.
Please contact me below if you would like to talk more about this opportunity.
——————————————————————————–
Thanks for considering Genealogy Beginner as an Affiliate Partner. Let me know if you have any questions, comments, or suggestions.
To your success,
Chris Clegg
cclegg(at)genealogybeginner.com
207.619.2297