150-Year-Old Family Bible Recovered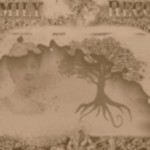 Sometimes the most precious gifts we receive come in the form of a kind gesture from a total stranger.
Such was the case for a Denver woman who received an email this month from a thoughtful stranger in Arizona…1500 miles away. The email contained information about a 150-year-old family bible, an attachment with pictures of the bible and a query as to whether the bible belonged to the Denver woman's family. Together with the pictures was a hand written page that the woman immediately recognized as her great grandfathers.
The email also held the information that the bible – purchased by a picker at an estate sale – was slated for an upcoming auction.  The decision was made to travel to Arizona and make a bid for the lost family treasure.
With Christmas, fast approaching the spirit of giving must truly be in the air for when the woman and her family reached their destination they received yet another surprise. The auction house closed the sale and gave the bible back to the family.
Contained within the bible was a peacock feather, photographs, lace and locks of hair: along with pages of family deaths, marriages and births.
The woman who sent the email stated that she felt compelled to find the bibles rightful home and it only took her a few days to find the family line that led her to the Denver woman.
Kindness in the Genealogy Community
Something wonderful about the genealogy community is that stories like this one are not unique.  To find evidence of this you need look no further than the internet to discover some fantastic websites such as Ancestor's Lost and Found.
Ancestor's Lost and Found is a searchable site dedicated to returning lost memorabilia found by others to their rightful descendants.
Its directory pages are filled with:
Lost treasures: A section where you can post lost family items you are searching for
Treasures to Share: Found items people are willing to share
Treasures Found: Items found by individuals who would like to return them to the correct families
The Mystery Gallery: Family Tree Photos in need of identification
Family Bibles: a page set aside for Family Bibles containing genealogy information
Ancestor's Lost and Found is sponsored by USGenNet: a not for profit webhosting service developed specifically to support sites such as this one.  USGenNet relies on donations for continued support, if you would like to help out with a tax deductable donation visit here.